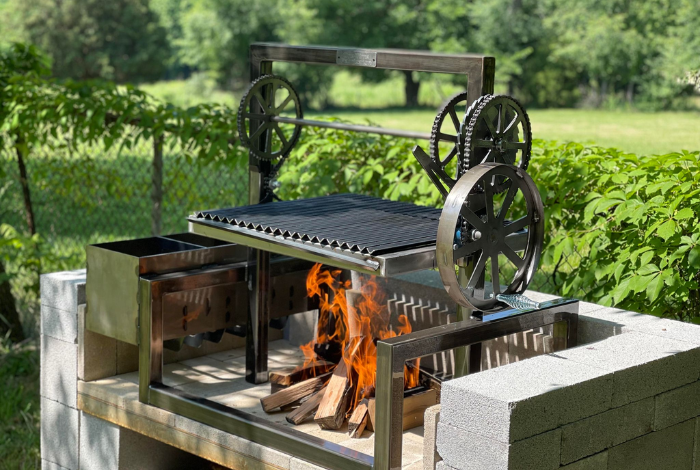 Heading into the last part of summer and early fall, there is still plenty of time for outdoor cookouts and neighborhood BBQs. That's good news for the folks who consider themselves great outdoor master chefs.
If you want to move to the front of the class as an outdoor chef, you need to consider the kind of outdoor cooking equipment you use. Of course, that references the kind of grill you are using. If you want to take your cues from the best outdoor barbecuers in the world, consider using a Santa Maria-style grill.
To save you a little research time, here is some information about the modern Santa Maria-style grill and some of the most recent innovative features that have made it more effective, efficient, and or easy to use.
What is a Santa Maria Grill?
Starting with the basics, it behoove you to know what a Santa Maria grill is and how it works. A Santa Maria-style grill will likely produce the best BBQ you have ever tasted.
A Santa Maria-style grill is a traditional outdoor cooking grill with a rich history. It comes as a stand-alone grill or on a cart, making it easy to move from one place to another. The feature that best identifies a Santa Maria-style grill is the firebox in an enclosed box under the grates. It's the enclosed box that creates the extra heat that gets evenly distributed over the cooking surface. This, in turn, gives an even cook across the meat. Intense heat is created by using fresh oak hardwood instead of coal briquettes.
As for the grates, they are not enclosed but instead open to the air. These grills can come with a single solid grate or as split cooking grates.
They come in various sizes, from the small "backyard" models to the oversized models that professional BBQ cooking experts use. Most models are made from iron or metal materials.
History of Santa Maria Barbequing
The history of the Santa Maria way of barbequing is deeply embedded in the American West. It started in the 19th century when wagon trains were traveling across the western states into California. This barbequing methodology was created so that wagon train cooks and ranchers could cook large batches of pork and beef for large groups of travelers. Over the last few decades, smaller models have been developed for single-family backyard barbecues.
The "tri-tip beef" cooking originated in Santa Maria (California), indicating how Santa Maria-style grills got their name. Today, barbequing competitions are ruled by BBQ pro chefs who would never cook with anything else.
Modern Innovative Features
Innovation always makes things more effective, efficient, and easy to use. Recent innovations in the Santa Maria-style grill space have certainly upped the barbequing ante for both backyard cooks and pros. Here are a few modern innovations of note:
– The ability to buy kits and customize a Santa Maria-style grill has opened the door for cooks to create a grill that meets their specific size and grilling standards.
– The addition of under-grill storage cabinets has given chefs a convenient and easily accessible place to store their cooking utensils and cooking supplies (spices, hot pads, etc.).
– Developing a larger selection of hand crank configurations helps bring a bit of style to these "coking machines." These cranks allow cooks to raise easily and lower grates above the heat. This helps to ensure that cooks have more control over the cooking process. Automated cranks are now available as a most recent innovation.
Carbon steel in manufacturing has increased the durability of Santa Maria-style grills and fireboxes. Carbon steel is a great conductor of heat during the grilling process.
Conclusion
If you truly enjoy cooking BBQ outside, you could emulate the pros. You can start that process by investing in your own Santa Maria grill. Once you have BBQed meat the right way, no other way is going ever to meet your standards.