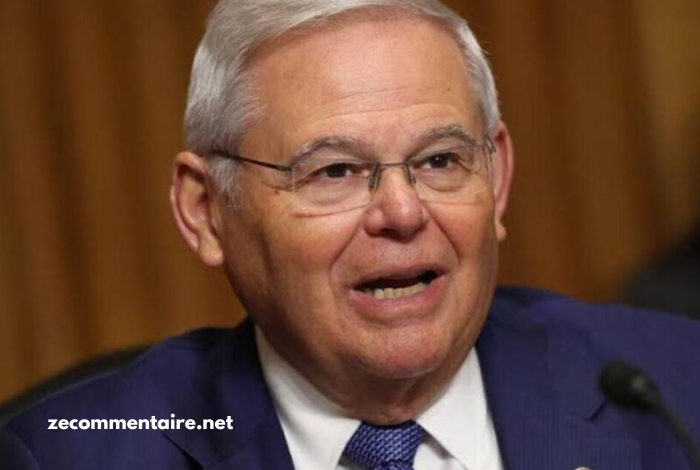 A US senator who has been accused of bribery claims that his Cuban parents' concern that their money would be seized by authorities led him to hide about $500,000 in cash at home.
New Jersey's Robert Menendez said he would be cleared and promised to run for reelection the following year.
He and his wife allegedly collected cash, gold bars, and a luxury vehicle in exchange for political favors, according to the prosecution.
Democrats have so far called for the senator to resign, but he has refused them.
"When all the facts are presented, not only will I be exonerated, but I still will be New Jersey's senior senator," a defiant Mr Menendez told a news conference on Monday.
It was his first outing since being charged on Friday.
Speaking in Union City, New Jersey, he added: "Those who rushed to judgment, you have done so based on a limited set of facts framed by the prosecution to be as salacious as possible."
When federal officials searched his New Jersey home last year, they discovered 13 bars of gold bullion and more than $480,000 (£393,000) in cash concealed in jackets, closets, and a safe. Inside his wife's bank safety deposit box, another $70,000 was found.
The indictment claims that Mr. Menendez looked up "how much is one kilo of gold worth" online.
But in Monday's news conference he said: "I have withdrawn thousands of dollars in cash from my personal savings account, which I have kept for emergencies and because of the history of my family facing confiscation in Cuba.
"Now this may seem old-fashioned, but these were monies drawn from my personal savings account based on the income that I have lawfully derived over those 30 years."
The son of Cuban immigrants, Mr. Menendez, indicated last week that those "rushing to judge a Latino and push him out of his seat" were responsible for the indictment and calls for his resignation.
The government of Egypt and business associates in New Jersey are both accused in the 39-page federal indictment against Mr. Menendez and his wife, Nadine Menendez, of receiving payments in exchange for the senator's political influence both domestically and internationally.
Additionally, according to the investigators, a businessman-purchased expensive Mercedes-Benz was discovered parked in the Menendezes' garage.
Menendez highlighted his senatorial work on Egypt in his speech on Monday, saying his track record was evident in keeping Cairo responsible for upholding human rights.
Mr. Menendez, who has been a member of Congress since 2006, has been accused of bribery before.
On the grounds that he had accepted bribes from a Florida eye specialist, he was charged in New Jersey in 2015.
The jury in that case was unable to agree on a verdict, resulting in a mistrial.
Texas Attorney General Ken Paxton was also found not guilty in an impeachment hearing before the state Senate on Saturday. He was charged with abusing his position in order to defend a political donor.
Simba Daily reported that the Texas House of Representatives voted to impeach Paxton, he has been on leave from his position. The Senate's decision on Saturday automatically restores Paxton to his post as attorney general, which he has used to establish a national reputation as a supporter of conservative principles and an opponent of Democratic presidents' policies.
Before reaching a decision, the senators deliberated for almost nine hours. To impeach Paxton on each of the 16 articles he was up against, a two-thirds vote, or 21 of the 30 senators who could vote, was required. Sen. Angela Paxton, Paxton's wife, was disqualified from casting a vote.
Only two Texas politicians have ever had their terms as representatives terminated following an impeachment trial.