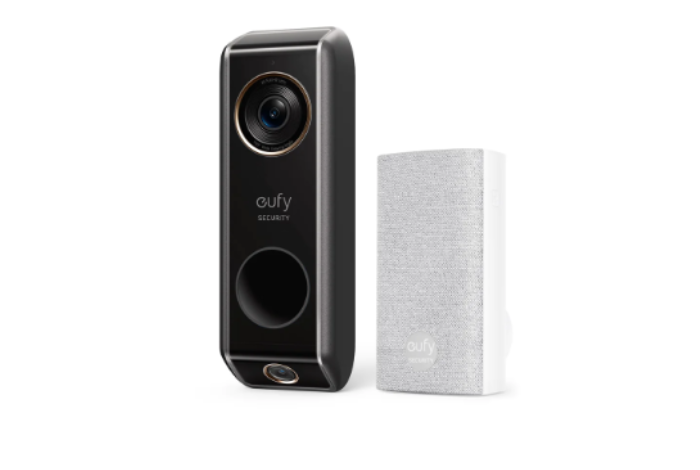 Are you tired of constantly worrying about who's at your door? Is the thought of leaving your home unattended giving you sleepless nights? Well, fret no more! We have just the solution for you introducing the incredible doorbell with a camera! This cutting-edge device is revolutionizing home security, keeping intruders at bay and ensuring peace of mind like never before. This blog post will explore why a doorbell with a camera is undoubtedly the best device for enhancing your door security. So get ready to discover how this game-changing technology can take your safety measures to new heights.
Top devices for the security of your door 
Here are the top devices for the security of your door:
S330 Video Doorbell
The S330 Video Doorbell Wired is an innovative and versatile home security device. It combines several cutting-edge features to provide users with a seamless and reliable experience. With its Dual Cam feature, this doorbell captures both the front view of your doorstep. It also contains a wide-angle view of the surroundings, ensuring comprehensive surveillance. The Delivery Guard function enhances package protection by automatically detecting delivery personnel and initiating immediate notifications to homeowners.
Additionally, the 3-Second Preview Videos offer a quick glimpse into any motion events before opening the app, guaranteeing real-time awareness. Equipped with an impressive 2K resolution and HDR technology, this video doorbell delivers crystal-clear images with accurate colors for enhanced visual clarity. Incorporating a Chime system ensures you always see visitors at your door, even when away from your phone or in areas where mobile signals may be weak.
The hardwired or battery guarantees an uninterrupted power supply. Furthermore, thanks to Two-Way Audio capabilities, users can communicate effortlessly with visitors through their smartphones wherever they are on the premises using high-quality audio transmission. Local storage capability allows for easy access and retrieval of recorded videos without relying on cloud-based services or monthly fees. It provides peace of mind regarding data privacy and reduces long-term expenses substantially.
Video Doorbell 2K Wired
The Video Doorbell 2K Wired is a game-changer in home security technology, offering an array of features that ensure the utmost convenience and safety for homeowners. The features include 3-Second Preview Videos feature a motion sensor trigger. It provides instant snapshots before answering the door. With 2K resolution and HDR, it features a built-in chime, customizable sound options, and is hardwired or battery electrical systems. It allows seamless communication between homeowners and guests and local storage for easy access.
The S330 Video Doorbell must be connected to your current cables. It needs 16–24 VAC, 30 VA, or more wiring for the required power. If your current one does not match this requirement, you will require a new transformer to install your doorbell. If you're unsure, hire an electrician.
Conclusion 
We hope we have guided you to learn about the best devices for door security. A doorbell with camera is an important part of keeping your home and family safe. With the right device, you can ensure that no one enters without permission while reducing the risk of a break-in. With doorbells with cameras, finding a device that meets your needs and fits your budget is easy. With these tools, you can know that your doors are secure and protected against unwelcome visitors.