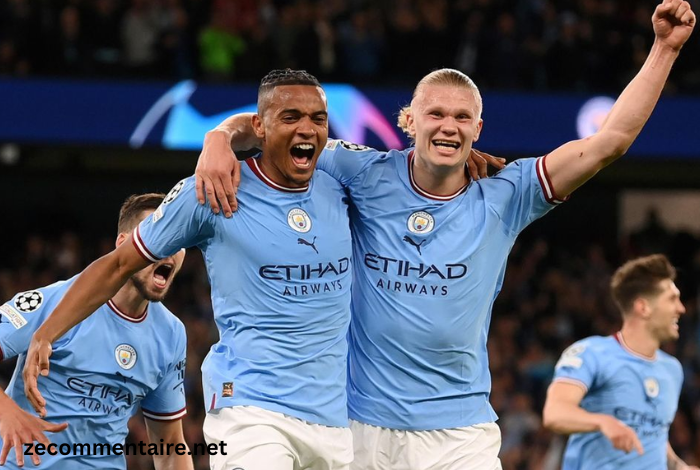 The world of football is set to witness a thrilling showdown as two European giants, Real Madrid and Manchester City, prepare to lock horns in a battle for supremacy. This match promises to be a spectacle of skill, strategy, and passion. In this comprehensive article, we delve deep into the history, key players, tactics, and the anticipation surrounding this epic fixture.
The Historical Rivalry
The rivalry between Real Madrid and Manchester City is not as storied as some of the other famous football rivalries, but it's been building steadily in recent years. The encounter between these two teams is always a spectacle, as both have a strong desire to prove themselves on the European stage. This rivalry has been fueled by unforgettable clashes in the UEFA Champions League, which have left fans on the edge of their seats.
Key Players
Explain bellow:
Real Madrid
Karim Benzema: The French striker has been Real Madrid's talisman for years, consistently delivering exceptional performances. His ability to score crucial goals makes him a player to watch.
Vinicius Jr.: The young Brazilian forward has been a revelation, displaying remarkable speed and skill, and he's a key asset in Real Madrid's attack.
Thibaut Courtois: Real Madrid's towering goalkeeper, Courtois, is known for his incredible shot-stopping abilities and his crucial saves in high-stakes matches.
Manchester City
Kevin De Bruyne: De Bruyne's vision and passing ability are second to none, and he is instrumental in Manchester City's creative play.
Phil Foden: The young English midfielder has risen to prominence as one of the brightest prospects in English football and is a versatile asset for City.
Ruben Dias: The Portuguese center-back has solidified City's defense, making them one of the toughest teams to score against in Europe.
Tactics and Strategies
Real Madrid, historically known for their possession-based style, has adapted their tactics under manager Carlo Ancelotti. They maintain a solid defensive structure and look to exploit spaces on the counter-attack. With key players like Benzema and Vinicius Jr., Real Madrid can be lethal on the break.
On the other hand, Manchester City, under the guidance of Pep Guardiola, plays a possession-centric, high-pressing game. They aim to control the tempo of the match and create goal-scoring opportunities through intricate passing and fluid movement.
This clash in tactics often results in an intriguing battle for control in the midfield. It will be fascinating to see which approach prevails on matchday.
Recent Form 
Both teams have experienced a mixed bag of results in their respective leagues and European competitions. Real Madrid has been steady in La Liga, with some notable victories. Manchester City, on the other hand, has been a dominant force in the Premier League.
However, recent form can often be deceptive in a high-stakes Champions League match, as both teams will be highly motivated to secure a vital victory.
Anticipation and Fan Expectations 
The anticipation for this clash is palpable. Fans on both sides are gearing up for a memorable encounter. Real Madrid's passionate supporters will pack the Santiago Bernabeu, while City's loyal fan base will be hoping to witness a historic victory.
The match promises drama, skill, and moments that will be etched in the memories of football fans around the world.
Predictions and Expectations
It's difficult to predict the outcome of such a high-stakes match. Both teams have the potential to emerge victorious, and it may come down to individual moments of brilliance or lapses in concentration that tip the scales in one team's favor.
In the end, what's certain is that football enthusiasts are in for a treat, and this fixture is likely to provide unforgettable moments, regardless of the final score.
Conclusion
The clash between Real Madrid and Manchester City is more than just a football match; it's a spectacle of passion, strategy, and talent. As the two teams prepare to face off, the world of football is buzzing with excitement. The history, the key players, the tactics, and the anticipation all combine to make this fixture one of the most eagerly awaited events in the football calendar.
So, mark your calendars and clear your schedules because Real Madrid vs. Manchester City is a showdown you won't want to miss. It's a celebration of the beautiful game, and it's sure to be a night to remember. Football fans, brace yourselves for an unforgettable spectacle!